Ava Vaughan / Product Designer Maker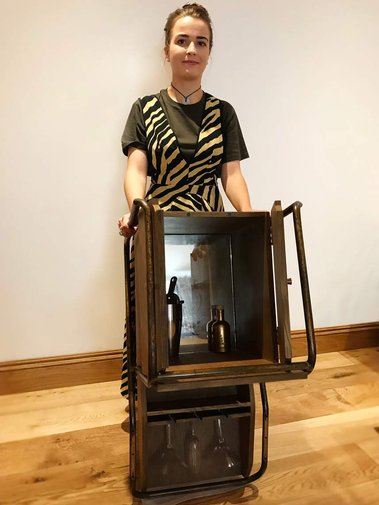 Oak-Smoked Cocktail Cabinet
Oak veneered Plywood, Mirrored Glass
When I think of 1920's, the decade in which the Cox's tubular chair was first produced, images of the Jazz era are conjured up with flapper dresses, glamour, cruise liners and cocktails.
This gave me the inspiration to take a utility piece of furniture that is associated within the home and transform it into the colourful world, of high-end luxury. I chose not to manipulate the frame in order to keep its integrity but decided instead to change its function, by inverting and using it as a silhouette to build a cocktail cabinet.
An element of the design was also to lead the user into believing the frame is structural, but in reality it is merely an outer skeleton. I wanted to contrast the historic raw and rough features of the chairs design with the slick and smooth finish of the traditional and contemporary wooden cabinet.
The chair now has a new lease of life as a functional cabinet, which will hopefully take people back to a bygone era sipping Manhattan's and White Ladies.
Maker Photo Diary
(Click on an image to enlarge or view individually)
Starting Points
Initial research into contemporary placement of existing tubular chairs within bars and cafes, alternative designer tubular chairs. Cocktails and contemporary takes on the cocktail cabinet.
Prototyping
Cutting panels from surplus MDF for testing sizes, proportions and how sections will fit in relation to the frame. Working with the profile and structure of the chair in order to see how it could be fixed to a wall. Making templates for the final cabinet and doors.
Fabrication
Cabinet and doors fabricated from real Oak veneered plywood sheet 18mm thickness. Sawn sheet with planed finish, routed biscuit joints glued and clamped construction. Routed channels to hold stemmed cocktail glasses created with a multi-purpose jig. Double doors with profiled detail attached to cabinet carcass with inset butt hinges and magnets inserted to close shut. All external edges faced with real oak edging and fine finished by hand with glass paper block. Consideration of future developments cutting a template (green) to fit into the face of the cabinet in-between the doors. This would be an added detail plasma cut brass sheet patinated to match handles.
Creating bespoke handles
Researching existing available handles for dimensions and method of connection. Turning solid brass round bar on an engineering lathe, working to a specification drawing. Drilling and tapping connection points then finally polishing and adding patination fluid to give an antique effect.