Ian Rylatt / Ceramicist & The Bontnewydd Collective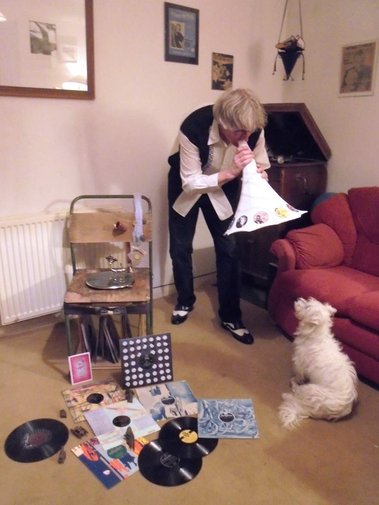 I Wanna' Hear It Again
Mixed-Media including; Papier Mâché, Gramophone components and collection of 78 vinyl
The old to new chair is really about celebrating the old and bringing it to our present. From the First World War, the depression of the 30's and through the Second World War music was a way to cope with the tragedies of those years. It was not only listened to but the village hall dances were an important place to come together to let go of the tensions of life through dance, laughter, talk and love.
The sense of community spirit has been revived, like these old records, in the way this chair has come to be. Friends and fellow artists have all had a part to play in creating this piece. They got in the groove, and the record of all that love has now come full circle in the chair. In its new life, its old life can be enjoyed for years to come…listen carefully…play on…play on…
Working with other artists and feeling their enthusiasm and support for this project has been a privilege I didn't expect when I began. This collaborative effort has also been implicit and reflected in Tom's whole project, again something that I feel privileged to be part of.
I thank all those who have contributed to this so far. Just last week someone asked if she could do something…this isn't yet finished!
The record will keep playing…listen out for the next gig, sometime next year!
Maker Photo Diary
(Click on an image to enlarge or view individually)

Selecting a frame
Wanting to work with a complete chair including the original plywood seat and back, there were two frames to choose from both circa late 1930's. Receipt of chair fame.
Making a Maquette
Reclaimed annealed galvanised steel wire, straightened and wrapped in rolled paper tubes. Chair profiles formed with long nosed and combination pliers.
Fabricating ceramic clarinet components
Throwing tubes on the Potter's Wheel, extruding clay coils, creating slab built buttons, fixing sections together with ceramic slip.
During a daily ramble foraging samples of separated bark, the torn edges inspired a similar aesthetic for the clarinet sections. The detail being in the imperfection of each individual piece.