Jeremy Bonner / Leather Worker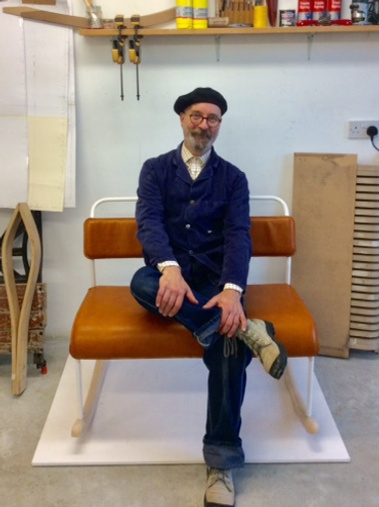 Manchester Love Seat
Leather, Formed Plywood, Hardwood
I wanted to be part of the Maker Project immediately, having stopped to talk with Tom and seeing what it was all about. We had been lucky to take part in other furniture projects - the Heals Bodging Race in 2015 & 2016 - on the invitation of Chris Eckersley, and our role as leather workers supplemented the various designers and their work using chair parts donated by manufacturers.
Being passed from one designer to another made me realise the value of collaboration early in our career as makers; and I found the concept of using an existing chair frame extremely attractive as a result of this. I decided straight away that, for me, this project would have to be about describing our practice as makers, and also our relationship as a couple.
The format of a sofa or bench made for two was my starting point, specifically the Love Seat, and what could be more appropriate than a Love Seat that rocks - both intimate and romantic.
My favourite maxim, and one that I live by, is keep it simple. Our work is always an exercise in reductionism, and economy of materials is a priority, but ease of manufacture plays a very large part. Having been the recipient of a brain tumour in 2011 I fail to cope with complexity in any shape, form or situation.
On top of all this, like the Amish, I tend to eschew all type of extraneous decoration (as frippery, or at the very least, the work of the devil!). My love seat fulfils this criteria in its simplicity of design, but unfortunately belies how complex I found its making.
In order to fit the skis the leg format had to be changed to avoid the Love Seat having a bandy-legged appearance (the original front legs being closer together than the rear to enable stacking) This required my first brazing jig, along with those to bend the new plywood seat and back; six in all were made for this project.
I also decided to tidy up the welded joints with fillet brazing in recognition of Cox & Co., Watford being incorporated into Raleigh Industries in 1967. Fillet brazing being a sign of quality among bicycle frame makers. The leather covers also proved tricky, requiring careful pattern making, marking and stitch punching.
This project allowed me to rise to a challenge, regardless of outcome. And the requirement to record the process a timely reminder to check my methods and technique of making.
Now with Book Donkey
Birch plywood and tubular Steel
Maker Photo Diary
(Click on an image to enlarge or view individually)
Planning & Deconstruction

Preparing a specification drawing determined where the frame needed to be cut and which sections removed. So, then it was straight down to stripping the frame to bare metal before cutting.
Reconstruction & Repair

Constructing the extended frame required some additional 15mm steel tube and 12mm tube for sleeving plus 5mm steel rod for plugging existing holes. A bike ride to the steel stockholders was needed before work on the frame could commence. In keeping with traditional bicycle construction, the frame was brazed rather than welded, all joints and repairs were then finished by hand using various grades of emery cloth.
Finishing the frame

Once prepared and degreased the frame was wet sprayed using polyurethane primer and gloss top coat paint.
Making the skis
An essential part of this design was the rocking skis which required a visit to the local wood specialist to source a suitable hardwood that would support the frame and carry two users. A seasoned plank of Ash was taken back to the studio to be shaped and profiled using a hand saw and router.
Forming the seat & back rest
The seat was made from 10mm plywood formed over master also constructed from plywood with shaped wooden profiles. Tee nuts were inserted at specific points to allow the seat and backrest to be bolted back on to the frame.
Upholstering & leather work
The seat and back rest were fitted with an upholstery foam using fabric adhesive then shaped with a serrated carving knife. Next was a visit to the Tannery to select a suitable grade of leather hide. On return to the studio patterns were cut and the leather prepared to fit to the seat sections.
Book Donkey
Having successfully completed the Manchester Love Seat and exhibited it at the Great Northern Contemporary Craft Fair I felt drawn towards crafting an ancillary book shelf inspired by the portable libraries found within Primary Schools throughout the C20th. Using the remaining tube and birch plywood provided the opportunity to explore this project further, employing similar techniques whilst fully utilising existing materials.