Deborah Carré / Cordwainer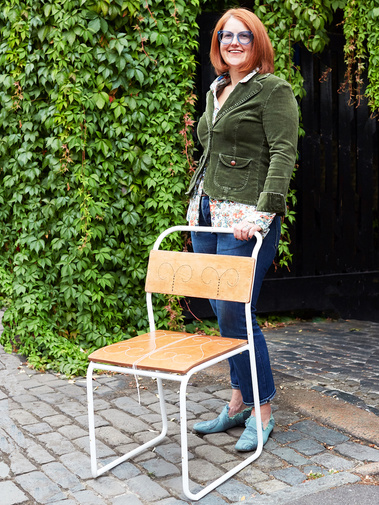 Carré X Cox & Co
Oak Bark Leather, Reclaimed Leather, Brass Bolts, Pre-waxed Linen Thread
This project threw me into unknown territory and creative conflict as a craftsman.
On the one hand, naturally recalcitrant by nature, I was excited to take the centuries-old techniques and skills of handsewn shoemaking beyond their traditional confines and to throw the usual considerations of fashion, fit and scale to the wind!
On the other hand, as a shoemaker of 20 years standing, I felt something of an interloper - crossing invisible borders into the territory of furniture maker, leather worker, book binder and saddle stitcher – appropriating the trades' specialist tools and techniques to suit my needs. But the more I worked on ideas for the chair the clearer it became to me how these skills and techniques needed to be interwoven and interdisciplinary in order to thrive. (Historically they have been taught and practised in isolation with their own Guilds, Livery Companies, sets of specialist tools, skills and techniques).
INSPIRATION - I discovered Paul Rabbitt's book and blog celebrating bandstands and was immediately struck by the following phrases - "…a lingering memory of the class and sophistication that prevailed in the Victorian era", "…both structural and decorative" and "…the advantages of wrought and cast iron over other materials; wrought iron for constructional purposes and cast iron for decorative purposes" – phrases that just as easily could be applied to handsewn shoemaking and leather.
My vision for Carré X Cox & Co is a chair close to its bandstand origins for a modern terrace or summerhouse, surrounded by greenery and for people having a good time!
OAK BARK LEATHER - is the hero of the piece; a staple of bespoke handsewn shoemaking and epitomising all that is good, about good leather – a by-product of meat production, small scale, locally sourced hides, naturally tanned in pits of oak bark liquor with water clean enough to return to the millstream. The lengthy tanning process produces leather with wonderful, natural characteristics; a warm oak brown colour, strength and durability. In shoemaking it is often mistaken for wood and I liked that sense of expectation and then surprise.
SURFACE DECORATION - I designed the chair with a white gloss frame to contrast with the aged patina of the leather seat and back, both cut from a reclaimed leather desk top.
The decorative patterns draw on ornate bandstand metalwork and are hand stitched with two needles, as I would to make shoes.
I wanted the surface decoration to be clean and crisp; employing brogue punches, a stabbing awl, stitch prickers and pre-waxed natural linen thread to achieve the charmingly naive pattern.
WELL BEING THROUGH MAKING - There are enormous health benefits in making things. Working with our head and hands offers the greatest sense of well-being, achievement and relaxation and I hope that this project will encourage people to make and to work with sustainably sourced, naturally tanned leather; one of the oldest crafts known to man and the material that we know best.
Maker Photo Diary
(Click on an image to enlarge or view individually)
Cordwainer & leather working techniques
Forming, welting and stitching examples.
Chair research
Examples of classic contemporary leather chairs employing a range of processes including draping, pleating, moulding, weaving and layering.
Preparation & sampling
Cutting paper templates and marking fixing holes, selecting oak bark leathers and testing edging finishes. Customised marking fork - a larger version similar to the ones used by a Cordwainer.
Working progress
Forming cardboard curved templates for seat and backrest. Hand cutting oak bark leather and glassing the surface. Soaking cut leather pieces in water releasing natural tannins within two hours. Pricking surface pattern from paper template and stamping stitching holes following a series of testing for spacing, stitch patterns and thicknesses of pre-waxed linen thread.