Tom Sutton / Assistant Teaching Professor / Designer Maker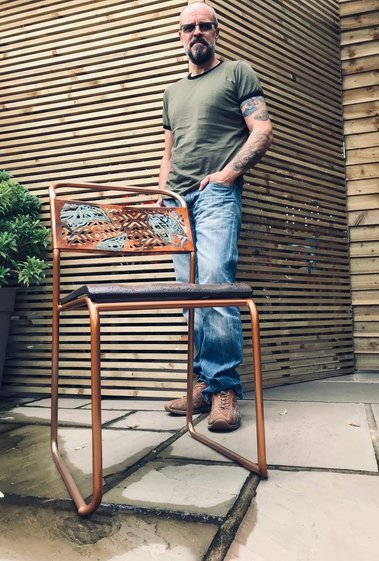 For Constance
Laser cut Copper with verde gris patina, Cast coloured Concrete
This reinterpretation of the Cox & Co. tubular bandstand chair draws inspiration taken from the timeless designs of mid-century textile designer, Constance Howarth, capturing a period in British history that celebrated excellence in design, engineering and manufacture.
Working from original artwork housed within the textile archives at Bolton Museum, the design of this piece contributes in part to a relating project directed by colleague and fellow researcher, Donna Claypool. In addition to the commonality between the period in which both designs originate, it is the cognitive thinking behind the realisation of this piece and the processes employed in achieving it that responds directly to the Maker Project.
The combination of simple flowing lines on the tubular frame achieved through mechanised production compliments the elegance of Howarth's hand drawn botanical and geometric designs. What initially could be considered to be very individual identities, both share a great deal of common ground. Howarth's designs went into commercial production the same as the tubular chair, both conceived through hand drawn ideas with the latter derived from a concept by Austrian designer Bruno Pollak for PEL (Practical Equipment Ltd).
Elements informed from selected designs by Howarth have been reinterpreted and developed to allow combinations of chosen applied & digital processes that celebrate the designer's work within an alternative context. The cyclical language of process employed by the creative practitioner, each stage informing the next whilst providing information for further analysis and review. Hand drawn concepts are transferred to a digital platform to allow laser cutting of plywood and copper, introducing a 3-dimensional quality to surface pattern. Materials are then further shaped and manipulated by hand, a natural balance with applied and digital processes informing each other.
The laser cut copper back has been treated with a patina using combined chemical and heat processes capturing a decorative but aged finish, reflective of an earlier place in history.
A laminated plywood master has been used to create a silicone mould, from which the concrete seat has been cast. Embellished with the autumnal colours first used in Howarth's original geometric design, the black with rich reds and orange now compliments the vibrant verde-gris adorning the copper backrest. This seasonal identity represents the mortality of nature and its changing identity.
Change and memory is also addressed in the way the concrete is cast, the tiered pattern only permitting illuminated fragments of the original design to spread on to the surface below.
Maker Photo Diary
(Click on an image to enlarge or view individually)
The combination of traditional applied processes with digital and post-digital outputs is employed throughout the entire design and making of this piece, promoting the importance of retaining making skills whilst recognising the potential of embracing technology.

Visual enquiry + pattern building using CAD
The original plywood seat and back was removed to take measurements from and the tubular frame sent away to Tillings Surface Treatments Ltd. to be sandblasted and powder coated. A range of visual enquiry was developed taking selected elements from samples of Howarth's original patterns, then directed towards artwork suitable for laser cutting. Drawing out specification plans taken from the original plywood chair seat and back including location points for fixings.
Drawing up pattern elements as vector files using Adobe Illustrator using a combination of the Pen Tool with Pathfinder action to prepare files suitable for laser cutting. This included deconstructing the final pattern to prepare three separate designs and formatting files as .dxf.
Lasercutting + fabricating the seat section
Each design was laser cut out of three separate sheets of 6mm Birch plywood. All three sheets were then laminated together using PVA wood glue with the full design sited at the top and most reduced pattern placed at the bottom. This allowed a greater surface area of material that would eventually become cast in concrete with reinforcing rods.
Once bonded the seat section master was filled with a resin filler and fine finished using combination of small wood files, 120 grit glass paper and pendant drill with grinding attachment. Jigs fabricated from aluminium bar were then used to mark the area where a seat impression had formed on the original chair through many years of repeated use. This distortion was recreated using rotary 80 grit flap discs with a 4 1/4" hand held angle grinder and spoke shave.
Finally, the plywood master was sealed with two coats of polyurethane primer ready to take a silicone cast from.